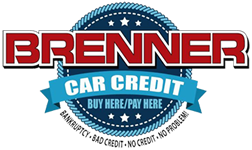 We know that bad things happen to good people. If you are tired of being turned down or even afraid to try to get a car loan, our buy-here-pay-here operation is the answer for you!
With over 20 years of experience in the buy-here-pay-here business, we can have you driving the vehicle that you want, need and deserve in 24 hours.
Stop in at any of our four convenient locations to talk with our friendly staff and check out our great program today!
Reasons to Choose Brenner Car Credit
Great vehicle selection
Warranties on all vehicles
Tax, tag, and title fees included in the loan
Easy payment plan
Fast approval
Friendly staff
Four great locations
We report to TransUnion
FAQs
Q: What will my payments be?
A: Payments start at $85 a week.
Q: I don't have very good credit. Will that hurt my chances?
A: No, we are here to help you build or re-establish your credit.
Q: Do I need full coverage insurance?
A: Yes, full coverage insurance is required on all vehicles.
Q: Do I get a warranty?
A: Yes, every vehicle with a 3 month 3,000 mile powertrain warranty.