Brenner Car Credit
4 Parkside Court
Mifflintown, PA 17059
(888) 450-7316
Used Car Service Center in Mifflintown
 

Do you have a warranty on the work done?
Yes, Brenner Car Credit issues every customer a lifetime warranty on all work done to your vehicle.
 

What payment methods do you take?
We accept the following: Visa, Mastercard, Discover, American Express, Insurance Checks and cash.
---
Towing Available?
 Yes
Please contact us for more information.
Rental Cars Available?
 Yes
Please contact us for more information.
---
 

Brenner Car Credit Collision Center

Our Collision Center has maintained the highest standards from its inception two decades ago. We continually update our equipment and train our technicians to ensure we can get your vehicle back to you as quickly as possible. We stand behind our work by guaranteeing all repairs for life. The Brenner Collision Center is equipped with the most advanced equipment and we employ the most trustworthy technicians to make sure your automotive repair experience is effortless.
 

Quality Collision Repair Backed by Experience

With over 20 years of experience providing drivers with OEM-quality vehicle-collision repair, we are so confident you'll like our bumper-to-bumper repair service that we warranty our repairs for the life of the vehicle. We offer:
Laser measuring
Frame restoration
Body panel replacement
Dent, chip and ding repair
Glass, light and mirror replacement
Mechanical repairs and replacements
Acceptance of all insurance!
We use the most cost-effective parts to save you money, whether OEM, aftermarket, pre-owned or reconstructed. All repairs are guaranteed, so you have no risk.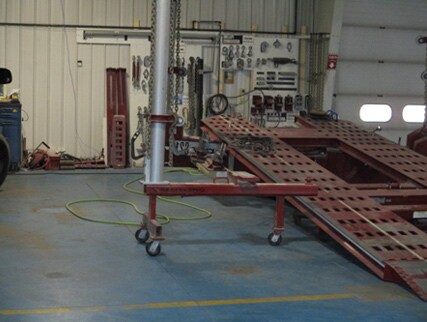 The Benefits of Using Our Collision Center

The Brenner Collision Center is your best choice, because we offer:
20,000 sq. ft. facility
I-CAR-trained technicians
Modern paint booths providing 45-minute curing time, as well as priming and edging
Latest laser measurement system
Advanced equipment, including frame machine, spot welders (pulse and inverter-resistance), alignment equipment and aluminum repair station
Staffed with Pennsylvania-licensed appraisers
We restore your vehicle to factory specs and provide a copy of frame specs for future reference
We do in-house A/C recovery and recharge
Rollback Service (Brenner Tire and Auto) on premises
We have a large parking lot and a storage area for towed vehicles.
Our painters are BASF Certified, and we use the BASF Onyx Waterborne Refinish System
 

We Work With Many Insurance Companies

You can call anytime to schedule a free repair estimate. We expertly file claims with all major insurance companies, and we always offer competitive pricing. We handle all body repairs, whether minor scratches, paintless dent repair, or major repairs. Come in for a free estimate.

We go the extra mile for you:
Full fleet of rental cars from Enterprise
Towing service available
Lifetime warranty on all repairs
Multiple payment options, including all major credit cards, insurance checks and cash